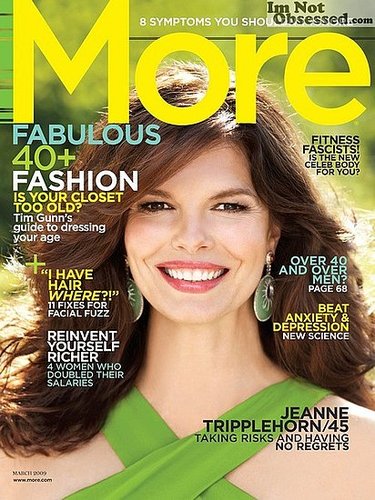 Jeanne Tripplehorn is March 2009 cover girl for More magazine.
What we liked:
45-year-old Tripplehorn comments about resisting plastic surgery:
"Maybe in my eighties, I'll do Botox," she says adding that lately she's been thinking that enhanced body parts seem like relics from another time. "I can't pass judgment, but aren't fake breasts already looking really 1995?"
And speaking of plastic surgery, mosey on over to BettyConfidential.com and read "A Plastic State of Mind -- To augment, or not to augment. That was my question..." by Nadine Haobsh, a fellow beauty blogger, former beauty editor at Lucky, Ladies' Home Journal, FHM and Jane, and the author of Beauty Confidential and Confessions of a Beauty Addict, and keeps the internationally popular beauty blog, Jolie Nadine.
Yes, we have a blogger crush!
March 2009 Magazine Covers
What's new on GWBBB?