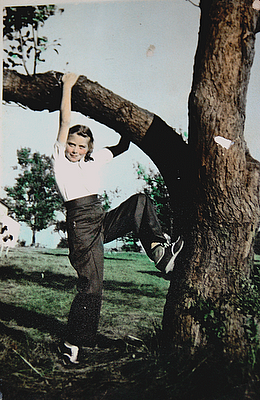 Unbeknownst to me, my mother was diagnosed with systemic lupus erythematosus, an autoimmune and chronic inflammatory disease, five years before I was born. When I graduated college, I was not aware that my mother had been living almost a quarter of a century with a death sentence. We moved to a small town on the eastern shore of Maryland when I was in the second grade and I didn't learn until I was a young adult that upon setting up house on Algonquin Drive, rumors surrounding my mother's disease moved faster than the indigenous blue crabs escaping the nets of the leathered-face watermen.

Most residents of the small town predicted that my emaciated 90-pound mother wouldn't live to see me graduate high school, but when I looked at my mother, all I saw was a strong, confident, intelligent, and persevering woman. How God could fit all that spunk, compassion, and intelligence in a five-foot-nothing woman is a miracle. She worked with unwed mothers when it was considered unbefitting of a corporate wife in the provincial waterside town. She believed in empowering girls and women long before the word was in vogue. She fought hard for women's rights when women were suppressed in the 1950s. She read the Wall Street Journal religiously and strongly encouraged my brother and me to read an article out of the newspaper every day and then synopsize and discuss it at the dinner table.

Yes, there were days when she would sequester herself in her bedroom all day, but I didn't find it peculiar because my parents acted as if all mothers did this from time to time.

Yes, there were also days when her thespian talents failed her. Bike rides would find Mom patiently waiting at the bottom of a hill while I rode my bike back home to retrieve my dad or brother to transport Mom and the Black Phantom Schwin back up the hill, but I didn't find it peculiar because she had spent the day at the library helping underprivileged children learn to read.

Yes, there were days that she would have to direct the world from her gold leather recliner as a result of exhaustion, but I didn't find it peculiar because as Dorchester County chairman of the Girl Scouts' cookie drive, a tractor trailer load of Thin Mint cookies were not only barricading her gold leather chair but Samoas and Do-si-dos were bivouaced in the whole first floor of our house.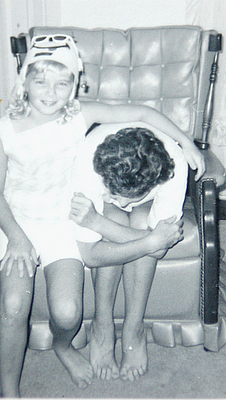 (Sitting in her gold leather recliner, I am protecting photo-shy Mom from the family paparazzo)

Not once did I ever hear my mother complain about pain, exhaustion, or headaches. She cleverly disguised the "butterfly rash" that landed on the bridge of her nose and cheeks in her early 20s with Ultima II foundation that she would order by telephone from the Hecht Company located on the western shore of Maryland because our small town demographic couldn't support a big department store. I thought this act of ordering by phone was one of pure sophistication before I knew that she was hiding her disease from me until I could spread my wings and fly solo.

I didn't realize until after Mom's passing that her sharp signature style was the result of her disease process. Her weekday uniform consisted of uber-chic Jackie-O sunglasses to shield her eyes from her lupus-induced sun allergy, Lands' End long-sleeve blouses to cover the bruising on her arms, and bohemian jingling earrings to draw attention to her ears instead of her face. Her aesthetic was one of clean and crisp preppy style with a twist of sophisticated free spirit, which matched her personality exactly.

Pragmatic as she was strong, Mom cheerfully designed Dad's itinerary from her death bed. Concerned that the "casserole ladies" would eat up what she opined was the best catch of her life, Dad's prescribed journey was to include Ireland for a few rounds of golf, a month-long visit to both my brother's house and mine so that he could then return home emotionally strong enough to manage the "casserole ladies."

Mom's ability to persevere under any circumstance, to smile even when it hurt, to look at life with a glass-half-full philosophy, and to love family, friends, and life passionately until her last breath has inspired me to work earnestly every day to exhibit the same values and character that my mother exemplified rather than taught.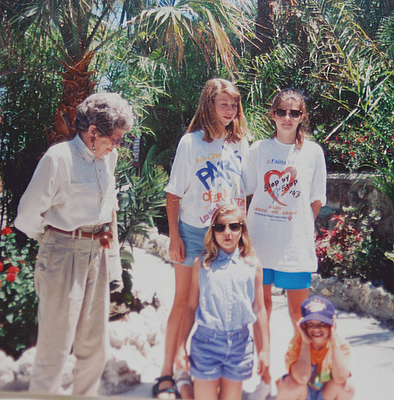 (Mom with her most beloved accessories -- her four grandchildren.)
Unfortunately, my mother passed away before I had a chance to realize that she has been the most inspirational woman in my life, but I know she still hears me. I love you, Mom.
(If my mom inspired you as much as she did me, would you please click here and vote for my story. All winnings will be matched and donated to the American Lupus Foundation. I thank you for your kindness.)