Girl-Woman-Beauty-Brains-Blog
Not your average beauty blog. More like an online beauty 'zine on brains.
Developed with a focus on an educational and healthy approach to beauty, the beauty intelligentsia track and test beauty products without any ulterior motives and without regard to brand influences.
Contact us at GWBBBlog at gmail dot com.
A Few Goody GumDrops
Adventures in the Stiletto Jungle
Ageless Beauty Always
Almost Girl
Antiaging Treatments
Bag Bliss
Beauty and Personal Grooming
Beauty Interviews
Beauty Makeup Essentials for Women
Beauty Resource
Boomer Girl
Champagne Taste on a Beer Budget
Chic and Charming
Chic Intuition
Coutorture
Couture in the City
Debutante Clothing
Dolce Beauty
Eye for Style

F& Art Guide
Fashion Copious
Fashion Nation
Fashion Trend Guide
Fasshonaburu
Gift Rap
Hope Robertson
I Am Fashion
I Heart That
Karina XOXO
KDC Events
Koneko's "Mostly" Beauty Diary
Kristopher Dukes
Liberty London Girl
Limo Heels
Luxuo: The Ultimate Luxury Blog
Makeup.com
Makeup Alley
Makeup Junkie
Monkey Posh
My Wardrobe Today
Pampered and Primped Up
Platinum Blonde Life
Posh Point of View
Raging Rouge
Real Self
Sample Wedding Hairstyles Info
Spa Week
Season Five
See Pretty Things
SheFinds
Shoe Blog
Shopping Is My Cardio
Style Chile
Style Goodies
Style It
Style...a Work in Progress
Stylehive
Sugar Loving
Sugar Shock Beauty
Swish Style
The Beauty Brains
The Best Kept Secret
The Budget Babe
The Budget Fashionista
The Fashionable Housewife
The Glossy
The Kitten Lounge
The Luxury Spot
The Perfume Posse
The Scented Salamander
Trendista
Uber
Voutour
Wardrobe Oxygen
We Love Sunglasses
Good Reads
Literature Map
Novel Action
What Should I Read Next
Beckie and Jamie .
Skin & Beauty Community
Posted on
Sep 2, 2008 at 8:00AM
Beauty Product Review: NARS Lip Glosses reviewed by Beckie and Jamie Read more.
2 Comments
--
Posted on
Aug 14, 2008 at 7:00AM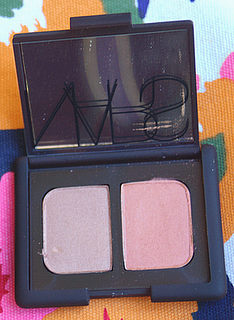 Beauty Product Review: NARS Duo Eyeshadow in Bohemian Gold.

Eyes that pop but not over the top

Reviewed by Jamie Temple Read more.
0 Comments --

follow GirlWomanBeauty at http://twitter.com