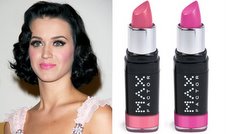 The Perfect Pink for Spring can be found in Max Factor Vivid Impact Pure Pigment Color
Reviewed by Jamie

Max Factor has introduced the average woman with not-so-average taste to a luxurious line of lipsticks at an affordable price. Vivid Impact Pure Pigment Color offers a conditioning lip treatmentwith shea butter and 20 hot hot hot colors to choose from that rival the expensive designer lipsticks
I slathered it on to see for myself and went ga-ga for the stuff. My lips never dried out or got the oh-so-awful creasing of lipstick mixed with dry skin. Not a good look.
# 4 Pin-Up Girl Pinkadded color to my White House Black Market wardrobe while still remaining subtle enough for my work environment. And, it could definitely give some professionally "done-up" celebutantes a run for their money.
Spring weather is finally here and I am celebrating with my Pinkster lips.

To prevent feathering of your favorite lippie, Max Factor is also giving us gals a coordinating lip liner to choose from.
Voted by Marie Claire as a Best Beauty Buy!