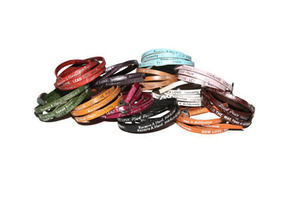 What's new and trendy with the perfect mix of cause and couture? Humanity Bracelets and Belts. ($24)
Our new accessory obsession is with Humanity bracelets and belts. The two-in-one leather band can act as a layered bracelet or a simple belt around your favorite white tee.
Not only are there extremely edgy and stylish but carry a valuable message. Each piece is adorned with phrases and sayings that inspire peace and random acts of kindness.
Founders Tammy Hotsenpiller and Helena Cho wanted to raise awareness for a variety of causes through fashion design. Tammy says that "Humanity stands for all things we can do to make this world a more enjoyable and better place to live in." It's a message that really hits home with many of us especially in this economic turmoil, environmental crisis, and war in the Middle East.
Let this fashion art remind you that we can change the world through one person and act at a time.
We call it random acts of kindness. But there is nothing random about it. It is purely intentional. The human soul longs to do good but is at a loss for direction. Humanity is each and every individual standing unified with one single purpose. That purpose is the dignity, respect, and well-being for all. Become a part of Humanity.
HOW TO ENTER
CONTEST CLOSED. WINNER PENDING. btw, your heart-warming comments brought tears of joy to our eyes. Keep up the good work, ladies
Giveaway expires at midnight EST on Friday, March 13, 2009. You may enter one time only. Answering the question has no effect on winning. One winner will be picked randomly and will be notified by email. The winner will have 48 hours to respond to the email. If there is no response, another random winner will be picked. The winner will receive one Humanity bracelet. United States and Canada only. Please see our site's Terms and Conditions of Use for a complete list of our Contest and Giveaway Rules. This promotion is void where prohibited by law.