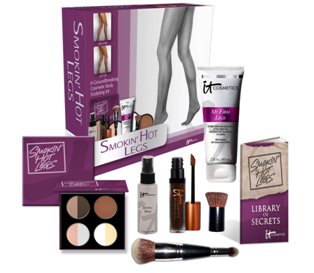 Whether you are looking for the perfect red, the hide-all-my-flaws number, or the flowy gown, we've got something for you to choose from that will 'wow' your guests or 'dazzle' your hosts this New Year's Eve.
New Year's Eve is a big event and you should convey that via your attire. Go big or go home.
This is the time to try a new color, fit, or print.
But, remember if you aren't comfortable strutting around the house. you won't let yourself relax in a public setting.
Want to spruce it up without going all the way? Pair solid colored dresses with funky print and colored accessories. Limit yourself to three pieces of jewelry. Too much of a good thing is, well, not a good thing.
Once you have your dress lined up, learn how to make your legs look smokin' hot with contouring makeup tips and tricks from it cosmetics.
And, remember ladies, drinking responsibly never goes out of style.
Cheers, Jamie
The Convertible Dress from Victoria Secret. Original $108.00 Sale $95.00
Flirty little rosette dress from Victoria Secret. Orig. $98. Sale $79
Sequin Racerback Dress from Forever 21. $34.80
Silky Origami Dress from Forever 21. $19.80
Satin Bustier Dress Bebe. $169
Braided Double V Zig Zag Dress from Bebe. $109
Sleeveless Mini Dress from Fredericks. $54.00
High Impact Dress Fredericks. Original $54.00 Sale $29.99
Houndstooth Twisted Strap Dress from Edressme. $90.00
Ruffled Front Jeweled Halter Dress from Edressme. $90.00
JS Boutique Beaded Jersey Dress (Plus size) Nordstrom $75.00
BR Monogramracerback gown silk rutched ruffle dress. Orig. $225.00 Sale $129
Tadashi One Shoulder Jersey Gown from Nordstrom. $408.00
Suzi Chin Maggy Boutique Organza & Taffeta Dress from Nordstrom. $178.00
Props to one of our local boutiques for sharing their fabulous taste online: HALÉ BOB Velvet Halter Dress from Inspire Me Online. Orig. $250.00 now $62.00
Another one of our fave boutiques in Indianapolis, Tantrum. Fremont Alice Dress in Charcoal $246.00.
Hussy The Mojito Dress in Jade from Tantrum. Orig. $315. Sale $200.00
Modern Jumpsuit from Express. $79.50
Silk Side-Ruffle Dress from Express. Oirg. $98.00. Sale $49.99
Buff up those pasty winter legs with this amazing do-it-yourself kit. Better for you than the tanning bed the 'Smokin' Hot Legs' kit ($69) by it Cosmetics will cover dimples, bumps, and bruises.
The arsenal includes:
Library of Secrets Manual - complete with tips and tricks on how to use the products effectively
Waterproof and sweatproof leg shadows and highlighters - a true blessing to the runny self-tanners that leave streaks our skin and smudges our clothes
My Firm Legs Primer - great to reduce appearance of cellulite, creating a leaner look, and prepping your skin for the rest of the process
Setting Spray - set it and forget it. No worrying while you're cutting a rug through the night
Body Stain - the semi-permanent gel lasts 3-5 days and is much like semi-permanent hair color; it will slowly fade away without any lines or mistakes
Mini Buffing Brush - create the illusion of added definition in certain areas that need sexy shading Dual-sided Body Contouring and Highlighting Brush - allows you to apply the cosmetics smoothly and flawlessly.
Now you're all ready for New Year's Eve.