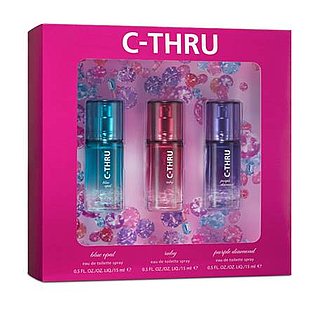 Estee Lauder launched a new line of fragrances for young women titled C-Thru. One of our PR associates alerted us of this line, so we took a trip to WalMart to analyze the scent.
For other holiday tips, visit Holiday Fa-La-La.
Containing three fragrances -- Ruby, Purple Diamond, and Blue Opal -- C-Thru would be a perfect gift for a tween to tween to twenty-something girl. With a price-point of $20, it's a good alternative to expensive designer fragrances.

Ruby is for someone who's very passionate, confident and strong. Its top notes are of melon, peach and bergamot; the heart is of rose, freesia and raspberry, and its drydown includes sandalwood.
Purple Diamond, is meant to represent mysterious intrigue. It has top notes of plum and black currant, a heart of Indian night-blooming jasmine and a drydown of vanilla.
Blue Opal expresses spirituality and balance and has top notes of watermelon and red berries, a heart of lilac and rose petal and a drydown of wet skin accord.
Current giveaways on GWBBB:
Current Headlines on GWBBB:
Last Minute Gifts for Women
Jennifer Aniston on Cover of GQ
Free at Prescriptives.com
Get Gorgeous With EcoTOOLS
Beauty Product Review: Laura Geller Bestseller Lipstick Trio
Holiday Stocking Stuffers
Bag, Borrow and Steal
Beauty Product Reviews: Mascaras
18 Life Changing Beauty Products
Best Eyeliners for Recessionistas

Dwell Baby Introduces the Weekender Bag

3.

Drugstore Deals for the Recessionista: Hair Color

4.

Fitness Friday: Emotional Workout

5.

How To Flat Iron Your Hair

7.

Beauty Product Review: Anastasia Essential Brow Tools

9.

Petunia Pickle Bottom For Chic Moms

11.

2008 Holiday Tipping Guide for Recessionistas
Most popular headines on GWBBB: