20 Best Heat-Styling Creams, Mousses and Sprays
According to many pundits and Santa Claus, this holiday season will see a preponderance of utilitarian and practical gifts. We have heard that many stockings will be stuffed with blow-dryers and flatirons.
As a note of caution, hair gurus and Mrs. Claus recommend applying one of these products before using a blow-dryer or flatiron. If you are stuffing a stocking with a practical gift, why don't you add a gel, spray or cream that prevents damage.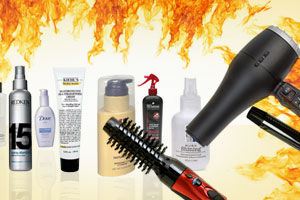 Try these gels, sprays and creams that beauty bloggers and Total Beauty readers say keep their hair healthy despite blow-dryer and flatiron addictions. (One of our faves and best on the list is Aveda, but it's not No. 1.)
See products
No. 20: Kerastase Mousse Volumactive Amplifying Perfecting Mousse for Fine, Vulnerable Hair, $34
Average rating: 9*

Why it's great: "This is the greatest styling product I've ever used on my fine, thin hair..."
No. 19: Matrix Sleek.look Styling Crème, $15
Average rating: 9.1*

Why it's great: "This works great to calm curly hair and eliminate the poof you can get while drying..."
No. 18: Bumble and bumble Straight, $26.99
Average rating: 9.1*
What's No. 1? Click here!