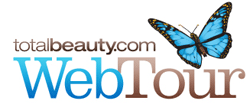 We're intoxicated on apple pie this morning. There's nothing better in life than starting Saturday morning out with a massive piece of the best Thanksgiving apple pie. We are grateful for many things, but right now, apple pie is at the top of the list. Apple pie and our fabulous network of Total Beauty bloggers.
With Black Friday shopping accomplished, just keep those tootsies warmed in those pink fuzzy slippers and ratty robe (we knew you needed a new one for the holidays and mentioned to Significant Other to get you a new one this holiday) and sit back and enjoy what some of the best beauty bloggers have been chattin' up this week. From free giveaways to tips for holiday travel to holiday hair, my Total Beauty network partners have compiled a one-stop beauty experience in Total Beauty Web Tour.
Ah, you may want to grab that last piece of apple pie before you start reading.
Girl-Woman-Beauty-Brains-Blog is offering another Manic Monday giveaway. TwisTeD Silver Shower earrings will add that holiday je ne sai quoi to that holiday outfit. Hurry. The giveaway ends on Sunday night.
Hot Beauty Health is giving one lucky reader a chance to win NARS Exclusive Lip Gloss Collection that includes five fabulous shades to wear this holiday season.
Beauty Junkies Unite discovers Liz Earle Naturally Active Skincare and has an "experience"!
Viva Woman shares with you the benefits of the oil cleansing method.
Fabulous Over Forty has a Lancome nail polish giveaway, as well as other holiday gift guides.
Felicia at ThisThatBeauty is doing her own personal rendition of the MAC and HELLO KITTY collection. Check out Felicia's HELLO KITTY Face of the Day.
Get Tips for Holiday Travel from cosmetic bag designer Stephanie Johnson at Makeup Bag.
Battle skin dryness this winter with a great spa-at-home tip from eye4style.
Georgia at Neon Bible takes a look at what Bond No. 9 has to offer for Christmas and it's actually affordable!
What eye look tops winter 2008 makeup trends? Head on over to Frappelattes to find out!
Alison of The Advice SistersElizabeth Grant skin care products. So hop on over and enter the contest today!
Beauty411 shares time-saving tips and styling suggestions for holiday hair without the hassle!
Kyle at Face Candy reviews Tocca's Florence Solid Fragrance.
Beauty Anonymous brings you Shiseido's Majolica Majorca Holiday 2008 Collection.
Did you know while Lipstick can help prevent lip cancer, lip gloss can increase your exposure?
Lean about Sunscreen for Lips at RN Guide to Skin Care. Suzanne at Mineral Makeup Reviews provides an overview of Bare Minerals Skin Care.
The Beauty Blog reviews philosophy Shear Splendor Shampoo.
Beauty Blogging Junkie experiences a truly fantastic facial at NYC's Xac Anthony Salon. Looking for discounts and free beauty products?
Check out TotalBeauty.com's New! Discount Deals of the Week article.
Monique at Beauty Girl Musings has fabulous pictures and all the beauty details from the Victoria's Secret Fashion Show!
Indian Girl shows you to sport a Bright and Fun Look and Soft and Feminine Look for this holiday season !
Givenchy Holiday Makeup 2008 on Marta's Video Blog-by Talking Makeup! makeup loves me tells you what her 5 absolute beauty must-haves are!
Head on over to beauty in real life to find out which fabulous new skincare products make the cut in Christine's morning routine. Kim Kardashian is giving away a selection of MAC makeup, handpicked by the Kim herself.
Visit Spoiled Pretty for the deets and to find out how to enter the giveaway!
The Home Spa Goddess has lots of links to Black Friday Beauty deals.
Current Headlines on GWBBB: