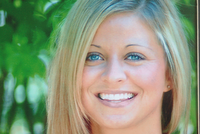 Jamie Temple, ACE, ACSM, Personal Trainer/Fitness Specialist, in her weekly Fitness Friday gives you a few more tips on how to have a guilt-free Thanksgiving dinner.
With the average Thanksgiving dinner weighing in at over 2,000 calories it's no wonder this is a scary time of year for women battling the scale. There is most certainly a healthful way to do Thanksgiving without giving it up completely.
In my family, we always register and participate in the Turkey Trot, a 5k and 10k road race the morning of T-day. Get online and see where the Turkey Trots are in your area.
Make sure you don't skimp on meals prior to sitting down at the Thanksgiving feast. Breakfast and lunch still need to be eaten to keep up your energy level and stimulate the metabolic systems of the body.
As dinner approaches, go over your solutions to over-eating. What food do you most look forward to? Allow yourself to have a fist-sized portion of it. That's it. Instead of creamy gravy, try a just-as-delish broth based kind. Portion control. No second trip to the buffet line. Substitute butter with fat-free butter spray, sugar with Splenda or Stevia, mashed potatoes for sweet potatoes, heavy cream with a home-made version made with skim milk.
Most of all, be mindful and grateful for the food and family this holiday.
More fitness articles on GWBBB
Get your Holiday Fa-La-La now!
Current articles on GWBBB: