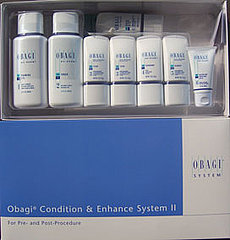 Beauty Product Review of Obagi Medical Condition and Enhance System
Preparing for microdermabrasion about five years ago, I succumbed to my doctor's advice and plunked down the cash for Obagi Condition and Enhance System. Although it was extremely effective, I stopped using it, primarily because I changed derms. Somewhere in the recesses of my mind, I also remember "The System" being too much of a system, too complicated, too many products. But testing it for this review refreshed my memory and skin on its efficacy.
With eight products, Obagi Condition and Enhance System is designed to enhance the results of facial aesthetic procedures including but not limited to microdermabrasion, ablative lasers, dermal fillers, facial surgeries, Botox, ablative chemical peels, and laser resurfacing.
How To Use:
There is a morning routine and an evening routine which uses different products.
You prepare your skin by cleansing with the Gentle Cleanser or Foaming Gel and then removing any residue with the Toner.
You repair by using Clear, 4 percent Hydroquinone, which corrects discolorations, and Exfoderm, an alpha hydroxy acid that removes dead skin cells.
You then apply Blender, Hydroquinone, and Tretinoin (which is the active ingredient in Retin-A and Renova and not included in this system and is available by prescription only), which normalizes cellular turnover.
Finally, you use Healthy Skin Protection SPF 35 or Physical UV Block 32 to inhibit future damage.
Results: Although this is a pricey skin care regimen, I know Obagi Condition and Enhance System works. After only a few days of usage, my skin looks surprisingly refreshed. The prescription strength products, including 4 percent hydroquinone and Tretinoin, will more than likely cause a tingling sensation and leave your skin red at first, but after a month of usage, your skin should become accustomed to the new products. If your skin can tolerate these products, this is the best option for improving collagen production and minimizing signs of sun damage.
Bottom Line: Does the word "medical" that is associated with this product and the medical terms used to market this system, like senile lentigines and acne vulgaris (which mean age spots and pimples) truly make this skin care regimen worth the price?
Not wholly.
You certainly could purchase a drugstore cleanser like Eucerin Gentle Hydrating Cleanser ($7.00) The toner in this system is formulated for dry skin and it's hard to find a comparable drugstore alternative. The other products, including Retin-A, are worth the price.
As a result of the many Obagi products used in this skin care regimen and the addition of Retin-A, there is a slight learning curve, but for pre-surgical cosmetic patients or women seeking antiaging products, this treatment regimen is highly effective.
Obagi is targeted for women ages 25 to 55, but women who are considering any type of nonsurgical or surgical cosmetic procedure or have age spots, sallow skin, hyperpigmentation, acne, or rough skin would also benefit from this system.
Although you can purchase Obagi skin care products on the Internet, Obagi recently launched a new website that encourages women to partner with a physician to improve the overall health of their skin.
Current articles on GWBBB: