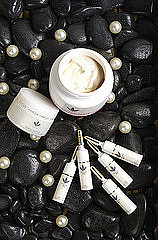 Are you ready to surgically rearrange your anatomy? Well, don't cut off your nose to spite your face! Give a few of these natural beauty tricks a test drive before you nip, tuck, or supersize anything.

Aging Fabulously : The post lists the top 50 skin creams according to beauty retailers.

Care by Stella McCartney Radiance+Youth Elixir: Stella's eco-friendly cream contains organic ingredients that stimulates the collagen in your skin.

Jurlique Wrinkle Softener Beauty Cream: Jurlique's cream delights your olfactory senses in an herbal antioxidant formula.

Juice Beauty Green Apple Peel: Juice's brew soothes redness and reveals newer skin. Cheers!

Abrioné Microdermabrasion Facial Scrub: Abrione's scrub renews your skin via intense exfoliation. (According to one of the top over-50 beauties, Christie Brinkley, using a loofah and a mega exfoliating scrub will keep your skin from aging as quickly. You can see the full article of the beautiful Christie at Self.com).

Dr. Hauschka Daily Revitalizing Eye Cream: Dr. Hauschka's eye cream wakes up the area around your eyes using mango, pineapple and rose oils. Doc's recipe is good enough to eat.

Juice Beauty Lip Plumper: Juice's Beauty Lip plumper amplifies your smoochers with a sugary-sweet, kiss-me-now mega-lip gloss.

The truth: Retin-A (by prescription only) and sunscreens with Mexoryl or Helioplex get my derm's highest recommendation. Dr. Derm suggests saving your dollars and using drugstore products Roc or Oil of Olay. She recently added Prevage to my regimen, in lieu of Skin Medica's TNS Recovery Complex System, but in my opionion, the jury is still out on the effectiveness. I switched a month ago to Prevage so I will give it a few more months before I share my assessment. I will share this truth: A girlfriend of mine is using Skin Medica and her skin looks positively radiant, and Bobbi Brown uses TNS in her skin therapy (Okay, I know I should document where I read that Bobbi uses TNS, but for the life of me, I can't remember where I read that. Sorry. Trust me, I did read that beauty secret.)

The naked truth: I wish I had used my brain and listened to my dear old dad, who is now a sagacious octogenarian, when he advised me to wear sunscreen in my 20s and 30s! It would have saved me many wrinkles and many dollars!

Most of the beauty products that I mentioned can be purchased from Sephora. A special thanks to the local Sephora. Natalie, the store manager, graciously donated the time of two makeup artistes for the Christ Child Society fashion show and luncheon. Since I will be behind the scenes, any secret beauty tricks I absorb will be posted here. Shhhh!