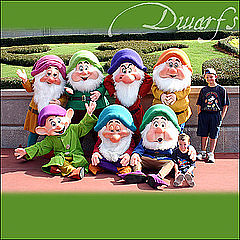 I am sure you have run into at least one of the seven dwarfs of menopause: Sweaty, Bloated, Itchy, Bitchy, Forgetful, Sleepy, and All Dried Up. The following list should help you match seven gifts with seven moods and find the menopause dwarf's inner beauty.
Sweaty: Night Sweats Sleepware will keep Sweaty cool when she has haute flashes.
Bloated: Her Puffiness can disguise her bloat with sweatpants from Nordstom.
Itchy: A 100 percent organic cotton tee from Pristine Planet would soothe Itchy's skin.
Bitchy: An Effexor prescription or a little stud -- diamond that is -- from Blue Nile might temper Bitchy's mood.
Forgetful: Uh, what was I writing about? Oh, yes, Do Not Forget door hangers from Uncommon Goods is a to-do list for Forgetful's brain. (See Forgetfulness is a Tool of the Brain for those concerned about their memory loss.)
Sleepy: Agourmet coffee gift basket filled with selections of coffees from Starbucks, Ghirardelli, Godiva, Wolfgang Puck, and Coffee Masters should motivate Sleepy from the arms of Morpheus and give her a needed dose of caffeine.
All Dried Up: Olive and Basil Body Butter from Crabtree and Evelyn will baste All Dried Up's parched skin.