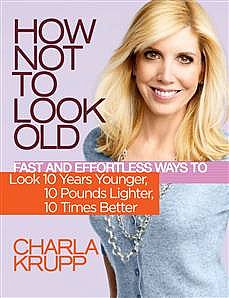 "Aging sucks," according to Charla Krupp, author of
How Not to Look Old
. I can't thank Charla enough for publishing this boomer manifesto! When I started The Haute Dawg blog, which morphed into
girl-woman-beauty-brains-blog
, I didn't have a clue as to what I was doing or where I was going with my "hobby." I didn't have a background in html or xhtml or SEO or meta tags, or for that matter, fashion or beauty RX. All I had was my 53 years of experience as a girl, woman, wife, mom, and professional business woman navigating the world and collecting experiences like an curator of the Louvre Museum. What I was looking for was a voice just like Charla's :


We're not going to grow old gracefully (or gratefully).
We're not going to celebrate our wrinkles (you've got to be kidding).
We're not going to join the Women Who Have Had Too Much Work Done club (like our mothers and their friends).
We're not going to look old.
I read the book over the weekend and will post the most impressive tips and tricks tomorrow. BUT if I were one of 78 million boomers, which I am, I would run out this morning and purchase this boomer bible. (How Not to Look Old: Fast and Effortless Ways to Look 10 Years Younger, 10 Pounds Lighter, 10 Times Better (Hardcover)by Charla Amazon.com $15.59.