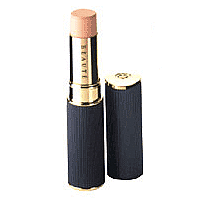 I have slept with every concealer on the market in an attempt to cover the dark circles under my eyes without the concealer settling into my crinkles, to no avail. My obsession lead me to Cle de Peau Beaute. I was so excited when the UPS truck and a Doug Heffenan clone rang my doorbell this week, delivering the most often talked about and coveted beauty concealer - Cle de Peau Beaute. This product has been hailed as the holy grail of concealers for dark circle coverage, as well as mature skin by many women. I ordered Ivory and Ocher not knowing which color would be best for my pale,,pink skin. At $68 a tube, this is not your middle school fashionista's concealer.
In truth, I was running late for work and did not allow myself enough time to properly address my skin, so my first application of this concealer may not have been the best test. However, Ivory was the correct color for my skin. (I have pink undertones, so the ocher pulled orange.) My grave disappointment came when traveling to work -- at a speed I will not mention -- and I smiled in the
rearveiw
mirror expecting a reflection of smooth skin and saw instead the ivory concealer caked in my crinkles and wrinkles around my eyes. End of smile.
Now what is a late-for-work woman to do? Wipe the culprit from under her eyes and let the natural dark circles shine through. Hopefully the new grapefruit perfume I was wearing that
allegedly
shaves six years off your face counteracted the dark circles.
I will give the concealer one more shot to see if it had anything to do with my application. If not, I will be at the post office on Monday returning the product and reporting the outcome to you.


UPDATE:
Cle de Peau Beaute
is the only concealer in my toolbox.

Sources: Barb's Best Bets, E Beauty Mall, How Not to Look Old: Fast and Effortless Ways to Look 10 Years Younger, by Charla Krupp