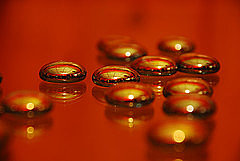 Previously
Girl-Woman wrote a post entitled, "
Are Eco-Friendly Beauty Products Really Eco-Friendly
?" After researching the 11 most dangerous ingredients in beauty products, my brain has been rattled by this new-found knowledge. Truly, ignorance is bliss!
In short
, to sum up the question raised in my last post, according to Environmental Working Group's Skin Deep's database:
"Major gaps in public health laws allow cosmetics companies to use almost
any ingredient they choose in everything from sunscreen and mascara to deodorant
and baby shampoo, with no restrictions and no requirement for safety testing. To
help you navigate your store's aisles, Environmental Working Group researchers
have scoured thousands of ingredient labels to bring you our top recommendations
for what not to buy — products with worrisome or downright dangerous ingredients
that don't belong in your shopping cart or on your skin."

Warning: This is your brain on beauty products:



Extracts from human and cow placenta

Lead

Petroleum Products

Mercury

Fragrance.

Formaldehyde

Mink and Emu

Hydroquinone

Nonparticle

Phthalates.

Petroleum Products




Fortunately, there's good news: If you girls are as addicted to beauty products as I am, don't fret. You don't need to go cold turkey just yet, and you don't need a degree in chemistry. There are many companies with a green conscience that are genuinely concerned with their products' impact on women's bodies, brains, and our environment.