Having spent a fortune at the salon last Monday (tint, highlights, lowlights, cut), I spent a week in my faded pink ball cap to reduce my newly purchased hair color from fading. Hairs my story, sad but true: I have been known to walk out after an expensive day at the salon, paying hair-raising prices, and re-cut my hair, re-tint my hair, or re-highlight my hair.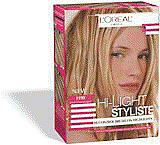 After letting the natural oils run through my hair this past week -- again, to reduce the fading -- I washed, conditioned, and styled my locks. Hairs my story, sad but true: I needed some color around my face. So I threw on my cap, ran to CVS, and purchased a tried-and-true favorite, L'Oreal Paris Hi-Light Syliste , $11.99, (H90 Ice Champagne) for medium to light blonde color-treated hair. Shhhh, don't tell Kev, my stylist extraordinaire.

I combed H90 on pieces of hair around my face, I conditioned my hair and reapplied my faded pink ball cap again. After washing my hair later that day, the color of the highlights were soft, not brassy.

I've got to tell you, girls, I've spent big money to keep my dirty blonde and gray locks looking like they did when I was a prepubescent blonde, but sometimes I wonder if I could create this look at home on a monthly basis for a fraction -- I mean, a fraction -- 1/20 specifically -- of the price.

Beautynomics: In the post I wrote last week -- Is Consumer Vanity Outweighing Fear of Recession? -- the question was posed with regard to what luxury consumers will forgo in a recession. Admittedly, not only are salons grumbling about losing clients, but I have heard clients grumbling about the cost of services -- yours truly included.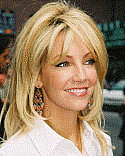 Celebrity Beauty Secret: Look at Heather Locklear, age 47, who appears to be getting younger, who represents L'Oreal for the Superior Preference campaign. Okay, I'm sure Heather is not applying the color herself or worrying about salon prices, but she does use a DIY L'Oreal product. What's Heather's beauty secret? Heather Locklear's glorious blonde locks owe their claim to fame to Superior Preference color #9 ½ BB (Extra Light Beige Blonde).

Hairs my story: Although I won't forgo my regular salon visits as of now, in this tight economy, I will squirm a little when I pay my salon bill.

How about you? Will you look for cheaper options for your hair?