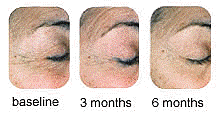 There have been new advances in creams containing growth factors. Studies show that the new creams promote new collagen formation. Of course they are not as good as a treatment in your derm's office, but many doctors suggest it is something you should add to your skin care regimen in your late 30s, early 40s.

But growth factors added to creams is a new cosmeceutical, and the consumer needs to know
What are growth factors?
Human Growth Factor (HGF) is a complex family of hormones that are produced by the body to control cell growth and cell division in skin, blood, bone, and nerve tissue. They regulate the division and reproduction of cells. They can also influence the growth rate of some cancers. HGFs occur naturally in the body but they are also synthesized and used in medicine for wound healing and immune system stimulation.
The Good: A study published in the Journal of Drugs in Dermatology, reported 83 percent of women between the ages of 35 and 65 who tried creams containing growth factors found improvement in their wrinkles after 60 days.
The Bad: Research indicates that when you add some forms of HGFs, the skin cells live longer than they would on their own, but on the other hand, if you add too much HGF, the skin cells die off sooner than they would if you hadn't added any. Long-term risk has not been determined.
The Ugly: The consumer is the guinea pig.
Creams containing growth factors include:
Regeniskin ($39.95)


SyCream by Syprex($34.95)


Neocutis Journee Bio-Restorative Skin Cream. ($120)


SkinMedica TNS Recovery Complex ($108)
Brains on Beauty: Staying out of the sun and wearing a sunscreen are the two best ways to keep your skin looking youthful. The newest and most protective products are sunscreens that contain Mexoryl SX and Helioplex.
With the jury still out on The Bad of growth factors and long-term risk not yet assessed, would you be a guinea pig if you thought it reduce your wrinkles?

Related articles:
Neocutis Journee Bio-Restorative Day Cream
TNS Recovery Cream - Surgery-Free Makeover
How to Get Rid of those Damn Age Spots
What's The Difference Between a Sunscreen and a Sunblock?
Are You At Risk for Skin Cancer?
12 Ways to Protect Your Skin From the Sun
4 Sunscreen to Have in Your Beach Bag
Sources: Beautypedia - Paula Begoun