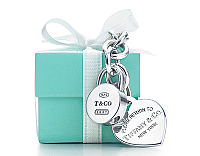 Tiffany recently sued eBay alleging that it has sold tens of thousands of pieces of counterfeit Tiffany jewelry on its online auction house. Tiffany also alleged that 95percent of jewelry items sold and offered on eBay's Web site using the Tiffany name are counterfeit. The issue came down to whether eBay knew that the pieces of Tiffany jewelry offered for sale were fake.
Tiffany vs. eBay. Judgment for the defendant.
Having bought luxury items on eBay and being duped, we have learned from our mistake. We have educated ourselves on how to spot a fake.
Caveat Emptor: Here are 9 tips to think about before you buy Tiffiany jewelry.
How To Spot Fake Chanel Sunglasses



If there's a photograph, look at it carefully . The photo could have been stolen from Tiffany Y Co.'s website.





Read the entire description. "Authentic" is not authentic unless it specifies the item is "Authentic Tiffany & Co."





Sellers with private feedback may be hiding comments made regarding fake items they have sold. New sellers who are offering Tiffany jewelry for sale at cheap prices are usually selling fakes.




The final cost at an online auction should be at least, half of the retail value of the item. Avoid high retail priced items with a Buy It Now price of less than a third of the retail value.



Honest sellers will answer any of your questions and offer additional photos with regard to authenticity.





If the seller offers to give you a receipt, the receipt does not guarantee that you have purchased an authentic piece of Tiffany jewelry. If the counterfeiter can sell a fake piece of Tiffany jewelry, he can also make a fake receipt.





Read every written word, including the return policy. If you do not agree or are uncomfortable with the return policy, go with your instincts and do not bid on the item.





Compare the item with the Tiffany & Co. website. Tiffany & Co. does not authenticate items bought on eBay.





Tiffany & Co. does not put their items on sale.
Have you ever bought a fake? Have you ever had any problems with eBay?
Related articles:
Tips for Spotting a Fake Dooney and Bourke Handbag