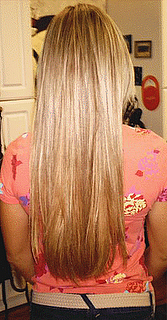 Are hair extensions worth it? In Jamie's case, absolutely!
Spending most of my day in the gym as a personal trainer, my hair is in a pony 80 percent of the time. As a result, my daily pony caused hair breakage. In addition, my hair was damaged from my own coloring mistakes and the overuse of my straightener. So last week, I giddyup'd to my stylist/extensionist, Indianapolis-based Kimberly Clark, who has been applying extensions for 17 years.


Since there are many methods of applying hair extensions (and many types of hair extensions), after my consult with Kimberly, we chose 100 percent human hair and the hot fusion method for the most natural look.
Adhesive-Based Fusion is arguably the best because the adhesives can withstand both heat and chemical treatments. The adhesive remover that is used to remove the hair extensions dries the bonding agent to a powdery substance (rather than dissolving it through messy oil and heat).
After applying the 22-inch extensions, Kimberly cut my hair into layers. The result added the volume and length I was seeking. Because the extensions are human hair, I can wear my hair straight or wavy.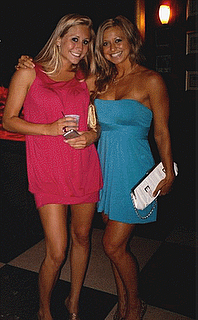 The maintenance is similar to my normal routine, except I do not lather the hair or put conditioner near the bond. Using a loop brush is also more gentle on the extensions.
The decision to get hair extensions represents a substantial amount of time, up to five hours sitting in a salon chair, and a substantial financial commitment of up to $2,000 initially and continued upkeep, so you should give this considerable thought.
The results should last from three to six months. At that time, I will gallop my long and voluminous pony tail over to Kimbery's salon and have my extensions removed and new ones added -- I hope, because I love them!
Now, if only my roomie (shown on left-hand side of picture above) and I could find an intelligent, compassionate, and handsome stallion..."she said laughing."
Have you had extensions, and if so, would you get them again?
Jamie