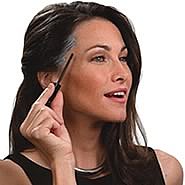 Have you ever been in between appointments and needed a quick fix to cover a few sparse gray hairs?
ColorMark: ($19.95) Real temporary hair color. Not a mascara. Not a crayon. Will not flake or rub off. Twelve shades.
Sharpie indelible pens: They come in a variety of colors, but Brown, Black, Red, Burgundy and Dandelion (for blondes) should cover most of the hair color categories, but we've seen a lot of punk pink in the last year -- but not on women over 40.
DIY - Mascara Wand: Blonde-maned women can wash off an old mascara wand and dip it in beige foundation to hide the unwanted gray hair.


I used ColorMark and thought I was looking fine, and my friend Franci said, "What is that glob in your hair?" Moral of the story: Use sparingly.

I am looking forward to giving a Sharpie pen in Dandelion a test drive on my blonde locks very soon.

Let me know if you have had any experience with covering your gray hair in between salon appointments.

Beckie

Related articles:
Hairs My Story, Sad But True
Are Hair Extensions Worth It?
How To Tone Down The Brassy Attitude of Your Hair

Image: ColorMark