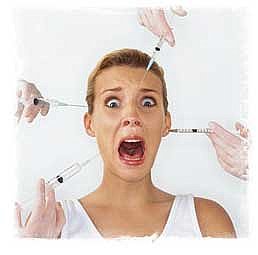 Warning: Don't go to your aesthetic treatment provider before reading this.
Written by Schmicker for Girl-Woman-Beauty-Brains-Blog. (Don't forget to any aesthetic treatment questions that are bothering you.)
Do you schedule an appointment with your dentist for you annual physical?
Do you know the experience and training of each individual providing service to you?

Cosmetic treatment to improve appearance of fine lines, wrinkles, age spots, and skin rejuvenation is provided by a variety of individuals. Whether you are seeking a consultation, having a facial, or scheduling your first Botox Cosmetic or filler injection, you should know the credentials and training of each individual providing service to you.
Prior to your appointment go to the provider's website to learn about the provider, his/her experience, and available treatments.
When scheduling the appointment, the customer service representative should be able to give you information or direct you to an individual who can answer all your questions without hesitation. Pay attention to detail and ask questions.
The initial consultation should begin with you and the aesthetic specialist discussing "what bothers" you. The reason you scheduled the appointment is most important and treatment options discussed should be explained in detail and include the cost, benefit, longevity of results, and side effects.
With every appointment after greeting my patient, I ask as I hand them a mirror, "What bothers you the most?"
After listening to the individual and fully assessing appearance of the skin, I explain in detail the treatment options available that are affordable and achieve the maximum benefit.
Treatment options are available to meet any budget. Do not feel pressured into having the procedure the same day. If you are unsure of the information presented and are not confident in the treatment provider(s) you can meet with other providers.
Schmicker is an accomplished Healthcare Industry Professional with extensive experience in diverse areas of mental and behavioral health and cosmetic dermatology. Her education includes a Master's Degree in Business Administration, undergraduate studies in Human Services and Criminal Justice, and practical nursing. She also is a cosmetic nurse specialist with excellent leadership abilities concerning healthcare and nursing team initiatives, and is instrumental in providing exceptional level of care to diverse clientele. Amanda has a broad knowledge base relating to cosmetic treatment options and benefits to each individual client.
Related articles:
Ask Amanda
New FDA Approved Evolence Is Not Your Mother's Collagen
Professional Cosmetic Treatments for Your Hands
Cosmetic Procedure Review: Juvederm Versus Restylane
Botox Gives New Meaning To The Words Brain Freeze
No. 1 Way To Fight Wrinkles
The Surgery-Free Makeover