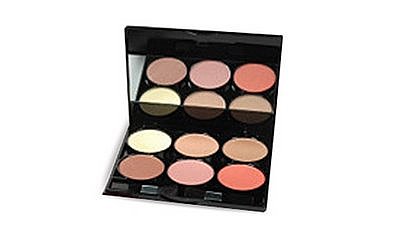 Beauty Product Review by Jamie Temple

Where can you get plastic surgery in a compact? All-In-One Highlight, Contour, Bronze, & Blush 6 Color Compact by Dimitri James ($28)

Skinn Cosmetics was founded by Dimitri James back in 2002 and prides itself on quality skin care and make-up products.

I was a bit skeptical about the contouring and highlighting jazz but dove into the six different shades with an open mind.

The slender case was accompanied by an easy-to-follow guide that showed me exactly where to use the bronzer, highlight, and contour.

In addition, each compact has three different blushes to choose from...I love options. Anyone who knows me can vouch that I don't like to follow directions, but I made an exception and found it easy to understand and apply. Bronze first, then highlight, contour, and finish with some blush.

Perhaps, I should follow directions more often.

Nay, I wouldn't have as much fun.

I was most fascinated with the highlighting.

What do you like? Your big eyes, dainty nose, high cheek bones? Make it stand out, ladies. Contour time.

What don't you like? There is a handy-dandy guide to help achieve the best results to hide those flaws.

For me, it was the double chin. My mother gave me this fabulous semi-turkey gobbler as a reminder that beauty isn't everything ;) But damnit, NOW it is. (joke, people). A bit of contouring and it looks like I had it sucked right out.

Is your face too round for your liking? Nose too long, short, skinny, wide? Wide forehead? Heavy eyelids? FIXED!

Don't get me wrong, I believe some of our flaws are what makes us beautiful but sometimes we may want to be the perfect us ;) ENJOY.

Visit http://www.skinncosmetics.com/ for plastic surgery in a compact.


Related articles:
Beauty Product Review: Nars Lipstick, Eyeshadow, and Nail Polish
Beauty Product Review: Laura Geller's New Baked Body Frosting
Beauty Product Review: THEVI Cosmetics for the New Ethnic Market
Beauty Product Review: Stila Lip Crush Lip and Cheek Stain
Beauty Product Review: Sera Lip Plumper Serum
Beauty Product Review: Benefit's New Talk To The Tan
Beauty Product Review: Makeup Tools - Shu Uemura Eyelash Curler
Beauty Product Review: Makeup Tools - EcoTools


Most Popular Articles:
What Are Ivanka Trump's Beauty Essentials
How To Make Your Eyes Look Bigger In 4 Easy Steps
Beauty Trick for Over-Plucked Eyebrows
Summer 2008 Celeb Hairstyle Trend: Pixie Crop
Fitness Friday: Exercises for Perky Breasts
10 Things Women Over 40 Shouldn't Wear
How To Get Sexy Summer Legs
Watermelon, Viagra, And Your Skincare Regimen
How To Spot Fake Tiffany
How To Spot Fake Chanel